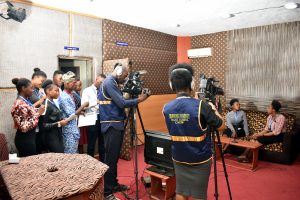 The Department of Mass Communication offers four years Bachelor of Science (B.Sc.) Degree course with objectives to teach and contour the aspiring students to meet the challenges in the pasture of media industries and communication studies.
---

We are grooming the FUTURE STARS!
---
Within the few years of birth, the department has designed a rigorous, engaging curriculum to develop exceptional communicators. Through this rigorous, engaging curriculum and innovative classroom experiences, interest driven courses and field experience that spur understanding, our students are not only challenged and encouraged in the pursuit of what they are most passionate about, but they are prepared to create messages that impact, inspire, present and influence our global society.
At the moment, the Department of Mass Communication is preparing students to meet the demands of the 21st Century.  Through our progressive curriculum, well established studios (Radio, Television, Newsroom, Photo studio etc) the department is developing critical thinkers who delve deep and communicate succinctly and creatively.
The Mass Communication department all well-respected scholars with adequate teaching experience and some with industry expertise mentor and educate our students through a vibrant interactive learning experience….APPLY NOW
---
The Team