The Department of Sociology at Crawford University resides in the College of Business and Social Sciences. Sociology studies the ways that social structure and interactions shape human experience. Sociologists seek to understand the full range of social institutions and practices from the dynamics of couples of large and small groups to shape social organization such as work and the family to the functioning of communities, cities and whole societies.
Sociological method of research are diverse, ranging from the quantitative analysis of large surveys to qualitative approaches, such as in-depth interviewing, participant observation, focus groups discussion, and historical investigation. The department encourages students to study issues from a variety of perspectives and to develop a 'sociological imagination' that enables them to analyse social arrangement and problems. For examples, as from the long vacation 2015 /2016 session, all the 300 Level students have been undergoing compulsory three months practicum (SOC 399) in any organisation of their choice approved by the Department, thus blending theories with practical realities on the field. Crawford University is the first in the country to introduce practicum into its curricula.
At the end of 4year course, students are made to write original essays under close supervision by departmental academic staff members. Whether the goal is to become an informed citizen or an expert in a special field, the Department offers the tools and knowledge to help students make sense of the world around them.
You are welcome to our great department.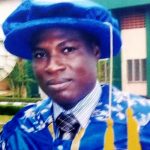 Dr. Matthias Olufemi Dada OJO
Ag Head of Department
Department of Social Sciences
Crawford University
Email: matthiasojo@crawforduniversity.edu.ng