Welcome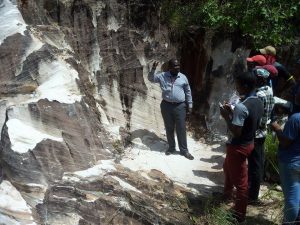 The B.Sc. degree in Geology and Mineral Sciences is designed to provide student with a sound and broad knowledge in Mineral Sciences and Geological practice for the required manpower development in the solid minerals and in the oil industry.  The efforts will ultimately contribute to national development.
By their training, the products of the programme have not only acquired the basic knowledge of field geology and laboratory studies but have also been equipped with geological techniques and skills required for exploration and production of the nation's vast mineral resources including water, solid minerals, oil and gas.
At the end of their training, the students are qualified to practice in a professional capacity having registered with the Council of Mining Engineers and Geosciences (COMEG) as Applied Geologists.
Level Advisers
100 – Ms V. A. Dairo – +234 806 242 5933     Voice | SMS | WhatsApp
200 – Mr M. O. Adeyemi – +234 803 757 9864     Voice | SMS | WhatsApp
300 – Ms O. S. Olatunji – +234 806 088 8065      Voice | SMS | WhatsApp
400 – Col V. O. Fagoyinbo (rtd) – +234 803 362 7682   Voice | SMS | WhatsApp
Postgraduate Programme