CUSCAF 2018
College of Natural and Applied Sciences of Crawford University is presenting, for the first time, the Crawford University Science Conference and Fair (CUSCAF). CUSCAF 2018 is themed: Science and Technology: Yesterday, Today and Tomorrow.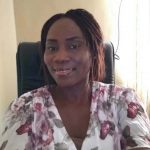 This conference promises to showcase the dynamism of scientific research as researchers come together to share their findings and network for possible future collaborations. Also featuring at this year's conference is the College Lecture titled Research and Industries: The Confluence.
The amazing and committed members of the organizing committee are turning all ground for the possibility of achieving a milestone in events and it is therefore exciting to say that all are welcome to be part of this exposé in scientific conference.
---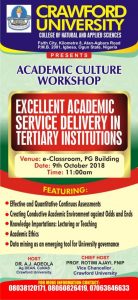 Excellent Academic Service Delivery in Tertiary Institutions – October 9, 2018….
---