Welcome to the Department of Biochemistry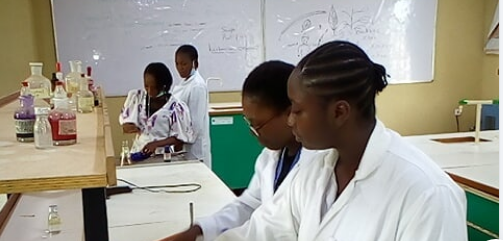 The Department is fully committed to the dissemination of knowledge with godliness in line with the main goal of Crawford University. Lecture delivery is stylish with adequate technological advancement thereby enhancing the critical reasoning of our students. Academic curricular are regularly updated with compliance to fast evolution of knowledge and development in the fields of Life Sciences. Lecture materials and practical manuals are also rich and well packaged with relevant knowledge application. The department is blessed with a cross section of dedicated and well qualified academic staff with profound passion to impact knowledge and are given to the making of outstanding graduates that are ready to take the world by storm. This department has produced a total of 138 graduates to date with 19 in the First class including the best graduating student during the 2014/2015 convocation.
---
There are several ongoing researches in the two academic Programmes comprising of different areas of academic research in Life Sciences. These include drug discovery, plant pathogenesis, antimicrobial resistance monitoring within the environment and the community especially amongst healthy individuals, biochemical toxicology, toxicological studies of crude extracts of plants and algae, drug metabolism, immunochemistry, enzymology, lipid and environmental biochemistry, membrane biochemistry research and many more.
---
Workshops/Programs/Competitions Organized By The Programme.
The Programme holds a Biochemistry Refresher course for graduate professionals in November every year. The National Association of Biochemistry Students (NABS) in collaboration with the Biological Science Student Association (BIOSSA) during her week organizes :
The Annual HOD's Football Cup Tournament.
As Essay Competition on the relevance of Biochemistry to the Society
A Seminar on Biochemistry and the Industry with established industry professionals as facilitators.
Various categories of Annual Award for Lecturers and Students in the Programme/Department.
---
HOD
Dr. Adekemi Faboyede
+234 803 564 5719    Voice |  SMS  |  WhatsApp
---
Level Advisers
100level- Mr. Njoku MI,
200 Level- Mrs. Aina
300Level- Mr. CEO Ikanone
400level- Mr. Seyi Ogunlana
Philosophy

Objectives

Admission Requirements.

A modern day biochemist should be competent and possess broad-based knowledge, required to compete globally and contribute positively in the application of scientific approach towards solving the intractable problems of poverty and diseases. The Programme runs a curriculum which facilitates the evolution of a Biochemist with adequate understanding in General, Physical, Industrial, Nutritional and Membrane Biochemistry, and complimentary disciplines like Biotechnology, Plant tissue culture, Bioinformatics and Forensic Science. An important course, Biochemical Reasoning, was introduced in the 2011/2012 academic session to assess the ability of the students to apply the basic concepts of Biochemistry learnt to challenges encountered daily. Since inception, faculty and students of the programme have explored different areas including Food and Nutrition, Biochemical Toxicology, Biological membranes and Environmental Biochemistry with research articles published in reputable journals, locally and internationally.

To provide the students with appropriate foundation of Biochemistry knowledge and practical skills.
To imbue the students with the ability to develop and utilize biochemical processes, forms and systems for obtaining maximum benefits to man and other forms of life.
To develop in the students relevant skills which are of value in biochemical research and multidisciplinary areas involving biochemistry.
To prepare the students for professional careers as biochemists for the basic and applied scientific research enterprise which do meet the needs of the modern society.
To generate in students an appreciation of the importance of biochemistry in the industry, economy, environment, technology and social development.
To instill in students the love for biochemistry in order to encourage them to be involved in intellectually stimulating and satisfying experience of learning and studying.

Candidate for admission into 4 year degree programme in the Department of Biological Science, Biochemistry Programme, must have five subjects at the credit level in the SSCE or its equivalent including English language, Mathematics, Biology, Chemistry and Physics.