Welcome
Crawford University's College of the Arts and Communication Studies offers undergraduate programs in History and Diplomatic Studies and Mass Communication.
Students in the college are exposed the most interactive, research-based and progressive diplomatic and communication facilities making them globally competitive professionals.
The College's specialised facilities include high definition broadcast television studios, a digital radio studio and the "Legacy-hall", her diplomatic theatre.
---
Departments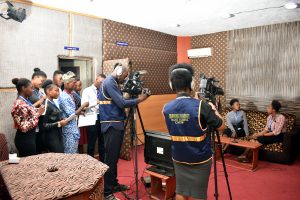 The Department of Mass Communication offers four years Bachelor of Science (B.Sc.) Degree course with objectives to teach and contour the aspiring students to meet the challenges in the pasture of media industries and communication studies…read more
Coordinator – Akinkoya O. Felix    +234 806 630 8248   Voice | SMS | WhatsApp
---
Today, International diplomatic environment is greatly influenced by political and cultural factors, History and Diplomatic Studies creates graduates that are cognate diplomatic analysts of history, culture, politics, international business…..read more
+234 807 220 8869     Voice | SMS | WhatsApp
---
College Administrative Officer
Sunday Idowu (Mr.)    ‎+234 803 860 9541   Voice | SMS | WhatsApp
TUITION
Tuition Fee – Click here to see details  (Fee per session – 100 Level to 400 Level)
---
Ag. Dean
Telephone: +234 803 344 7750
Email:  jonathanamuno@crawforduniversity.edu.ng;  jonathanamuno@gmail.com;