The Department of physical and earth sciences is one of the departments in the College of Natural and Applied Sciences established at the inception of the University in October 2005. The Department offers B.Sc. degree programmes in Industrial Chemistry, Physics with Electronics and Geology and Mineral Sciences.
Our students are exposed to adequate practicals both in the field and laboratories throughout their stay on the campus to produce industry – ready scientists greatly needed in this twenty-first century. Over the years we have achieved an enviable level of professionalism and entrepreneurship while maintaining good academic background and this has germinated into a valuable industry-university relationship. Our students are trained to be relevant in the Society and to be self-employed, hence they are highly sought for both locally and internationally. The philosophy, objectives, course outlines and staff of each programme are as presented below.
The  B. Sc. degree programme in Physics with Electronics aims at providing the students with an intellectual environment favourable for the study of Physics with Electronics and related   disciplines, so that at the end of the training the products (graduates) should be able to pursue research  activities programmes in various fields of Applied Physics and work in several public establishments such as Meteorology, Telecommunications, Aviation, Energy Centres, and Medical Physics, as well as in private establishments and manufacturing companies. Our graduates  can also specialize in any of the engineering field such as electrical Engineering , Computer Technology, etc;
The B.Sc.  degree  in Industrial Chemistry is designed in such a way as to provide the students with a sound, broad, relevant and balanced theoretical and practical foundation in modern aspects of Chemistry and Industrial Chemistry to pursue a career in the production, management, research and development in the chemical and allied industries such as  industrial, food, Pharmaceutical, metallurgical and petrochemical industries in  Nigeria. The intellectually equipped students will be able to proffer meaningful solutions to any environmental and industrial problem to enhance remarkable economic sustenance and development in Nigeria as well as other Africa nations and beyond.  Our graduates are well exposed to classical and instrumental methods of analysis, as well as, modern and current analytical techniques.
The B.Sc. degree in Geology and Mineral Sciences is designed to provide student with a sound and broad knowledge in Mineral Sciences and Geological practice for the required manpower development in the solid minerals and in the oil industry.  The efforts will ultimately contribute to national development. By their training, the products of the programme have not only acquired the basic knowledge of field geology and laboratory studies but have also been equipped with geological techniques and skills required for exploration and production of the nation's vast mineral resources including water, solid minerals, oil and gas.  At the end of their training, the students are qualified to practice in a professional capacity having registered with the Council of Mining Engineers and Geosciences (COMEG) as Applied Geologists.
Enrol now to be thoroughly trained by competent lecturers for a glorious future career.
The Team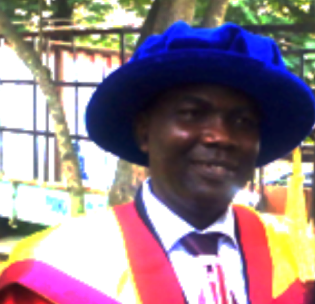 Dr. Adeola A. John – HOD
Email: johnadeola@crawforduniversity.edu.ng
Phone: