Applications are invited from suitably qualified candidates into the School of Foundation Studies, Crawford University for up-coming Academic Session.
Highly successful candidates, after an approved examination administered by the Joint Universities Preliminary Examination Board (JUPEB), are eligible for consideration for Direct Entry admission into the 200 Level of the Degree Programmes of the University through JAMB (Joint Admissions and Matriculation Board).
Please note that this programmes is a residential programme.
The School of Foundation Studies will provide an intensive one-year programme, teaching subjects in line with the JUPEB Syllabus for admission according to the following subject combination groupings:
A minimum of FIVE credits (English Language, Mathematics and three relevant subjects) obtained in one or two sitting at the SSCE/WASSC, GCE/O/L, NECO with results obtained before registration.
---
ADMISSION REQUIREMENTS:
Procedure For Completing School Of Foundation Studies
A minimum of FIVE credits (English Language, Mathematics and three relevant subjects)obtained in one sitting at the SSCE/WASSC, GCE/O/L, NECO with results obtained before registration.
Crawford University has zero tolerance for drug abuse, sexual harassment, examination malpractice and other anti-social behaviour. Kindly note that all admitted students will undergo compulsory medical test.
Visit the Crawford University website (www.crawforduniversity.edu.ng/admission) and call any of our hot-lines for inquiry on combinations relevant to your proposed choice of course of study for Direct Entry admission.
---
ALL PROSPECTIVE STUDENTS ARE REQUIRED TO COME WITH COPIES OF THE FOLLOWING DOCUMENTS.
O'level Result (GCE | NECO | WAEC | .
Birth certificate.
Eight Passport-size pictures.
---
JUPEB Past Questions
Click the logo below to download past question for free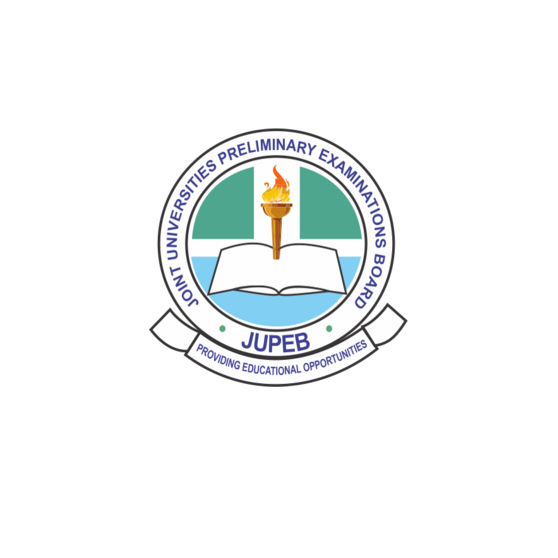 ---
---
Bill/Fees:
| | | |
| --- | --- | --- |
| S/N | DESCRIPTIONS | AMOUNT (N) |
| 1 | TUITION FEE | 240,000.00 |
| 2 | ACCOMMODATION FEE | 60,000.00 |
| 3 | OTHER ACADEMIC FEE | 10,000.00 |
| 4 | GENERAL FEE | 40,000.00 |
| | TOTAL | 350,000.00 |
Note:
1.Acceptance Fee(non-refundable) of N15,000.00 is payable to any of the school fees accounts
2.The Feeding Fees (Optional) below are payable to a separate Ecobank account number: 4052002154

ŸBreakfast – N70,000.00   
ŸLunch – N84,000.00    
ŸDinner – N84,000.00
Method of Payment:
1. Parents/Guardians/Students are advised to pay the school fees to any of the under listed banks through instant transfer or online payment on our website www.crawforduniversity.edu.ng/admission:
* Ecobank – 4052000497         
* GTBank – 0051223406
* UBA – 1013638653               
* Zenith Bank – 1010785622
Under no circumstances should cash be paid to any officer nor will cash be received in the University Bursary. Please ensure that the school fees are paid to any of the above designated bank accounts only.
2.Full payment of school fees is desired.
3.No student will be allowed into the campus without payment of school fees as stated above.
4.Please obtain a transfer receipt from your bank or online payment confirmation slip in the
student's name
Benefits:
Crawford provides conducive environment for studies with well-furnished lecture halls. The campus is neat with a regularly maintained landscape. The teachers are drawn from among the senior and best lectures. The University has zero tolerance for indiscipline. Crawford offers spiritual environment akin to the motto: Knowledge with Godliness.
Crawford University candidates have maintained a tract record of good performance in the examinations.
Make Crawford your first choice! You will not regret it.
JUPEB Subjects offered at Crawford:
Christian Religious Studies
English Language
Literature in English
Accounting
Business Studies
Economics
Government
Mathematics
Biology
Chemistry
Physics
Note: Three subjects are taken by the candidate to obtain the required combination for Direct Entry admission for the study of the candidate's course of choice in Crawford University or any other university in Nigeria.
For enquiries 
Jupeb Secretariat – Mr. Adefisan Adewale  +234 806 553 7219    Voice | SMS | WhatsApp
Student Accounts Officer – Mr. Adeodu J. +234 806 751 3418     Voice | SMS | WhatsApp
Front Office – Mrs. Ezra Grace +234 803 819 4061     Voice | SMS | WhatsApp
Admission Officers –
Ezra +2348038194061          Voice | SMS | WhatsApp
Henry +2348023003436        Voice | SMS | WhatsApp
Ben +2348033164620        Voice | SMS | WhatsApp
Adefisan +2348065537219      Voice | SMS | WhatsApp
Ope +2347061336636        Voice | SMS | WhatsApp